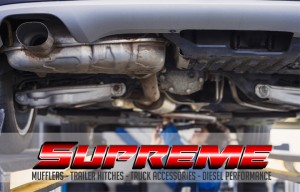 What Makes A Good Mechanic? A good mechanic is not always the easiest person to find because it not only takes skill it also takes a lot of experience. A Mechanic can be a car owner's best friend or worst nightmare. Most of the time, people only search out a mechanic if they have a problem with their vehicle. But, some people want a mechanic who is skilled at installing and upgrading mufflers, catalytic converters, and even trailer hitches. What Makes A Good Mechanic can be analyzed with the following qualities:
Strong Customer Service Skills
Great mechanics are able to relate well to customers and listen to them and their needs and concerns. They are able to communicate clearly with them and explain the diagnosis and repair suggestions in easy to understand language.
Strong Communication Skills
A good mechanic has excellent communication skills and is able to translate complex technical jargon into plain English for the average customer.
Good Diagnostic Skills
A great auto mechanic is able to quickly identify the source of a problem and other related issues and potential future ones. He is aware of and has diagnostic resources and equipment to identify vehicle problems.
Problem-Solving Skills
Good mechanics can quickly suggest possible ways of addressing problems and provide solutions.
Solid Work Ethic
A great mechanic has a solid work ethic and is honest about the problems
Strong Technical Aptitude
Mechanics should be able to use a variety of technical tools to diagnose and address a wide variety of vehicular problems.
Up-to-Date Technology
Vehicles and technology are continually evolving, and great mechanics stay on top of these changes so they can best serve their customers. As hybrids become more popular, for example, mechanics will be knowledgeable on the most common problems or what could be the most common problems.
Leadership
Mechanics interested in advancing in the profession have savvy leadership skills and are able to take charge when situations warrant.
Certified
While certification is not a requirement of mechanics, it demonstrates a sense of motivation and ambition to both employers and customers. Certification also ensures that the mechanic is up-to-date on the latest technologies and techniques in the industry.
Personal Tool Inventory
Though not always required of a mechanic, a personal inventory of high-quality tools can ensure that a mechanic feels comfortable using tools, and learning new tools as they become available.. Many mechanics use their own tools on customers' vehicles.
A Supreme Muffler we strive to always be quality mechanics providing the best customer service with top quality products. If you want a local mechanic you can count on, call Supreme Muffler at 504-885-5950.